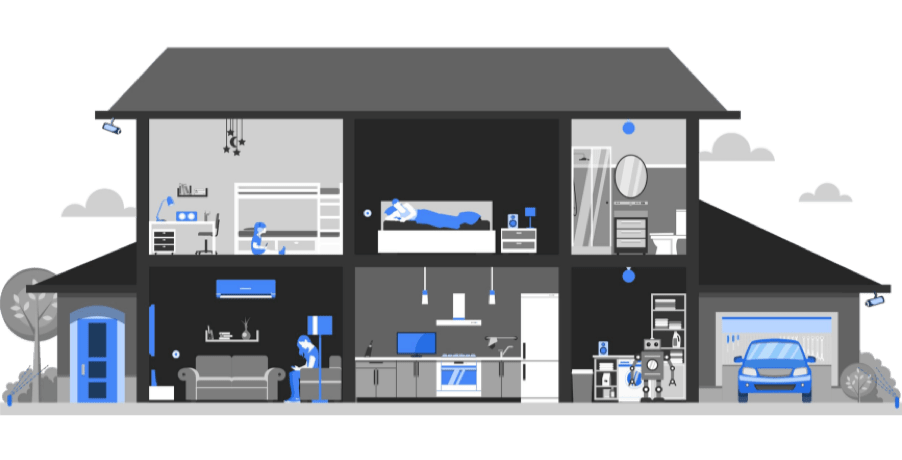 Gone are the days where just the technologically savvy are turning their houses into smart homes. With the evolution of computers, cellphones, et al, it was only a matter of time until our homes became smart, as well.

So what is a smart home? In short, a smart home is an automated home; or, a home where you can control things various features via your personal device. These features include, but are not limited to: appliances, entertainment systems, lighting & climate.
Why do I want one? The two most important reasons to consider having a smart home are saving money & building stronger security. Spending money will save you money in the long run. You can save on heating & cooling via smart thermostats, which will automate & regulate your A/C. With devices like Ring doorbells and advanced security cameras, you are creating a safer living environment.
What can be smart? Just about anything that plugs in.
1) Entertainment devices such as, televisions, speakers
2) Kitchen gadgets such as ovens, refrigerators, and coffee makers
3) Basic home needs such as, doorbells, lights, A/C, and curtains
4) Home care such as, vacuums, laundry machines, even refrigerators that order groceries online when it senses that you're low.
The list goes on.
Where do I start? We'd recommend starting with some of the more popular products.
The Amazon Echo is a speaker that also functions as a digital assistant.
The Nest Thermostat can be connected to your Amazon Echo, so you can verbally tell it to adjust temperatures.
Ring Video Doorbell connects to your smart device so you can see who comes to your home. It also comes with a speaker so you can chat with the person if you're not home.
How much will this cost me? Based on the list above, you'll be starting at $500 for an Alexa, one Nest thermostat, and a Ring (this price doesn't include any additional charges accrued from set up.) It's suffice to say that a purely smart home is not a decision to make on a whim. Luckily, you can go as small or as large as you want with automating your home.
If you'd like to know who we recommend in the area to make your home in a smart home, feel free to call or email back.