In the past year, many things have changed. One of the biggest changes for a lot of people has been the shift to working primarily from home rather than an office (in the case of non-essential workers). Even though those of us who have been working from home have been doing so for some time now, it can still feel difficult to keep up productivity when working from home.
We asked our agents to share their WFH setups with us, along with their best productivity tips, so that we can share that knowledge with you!
Ellen Klein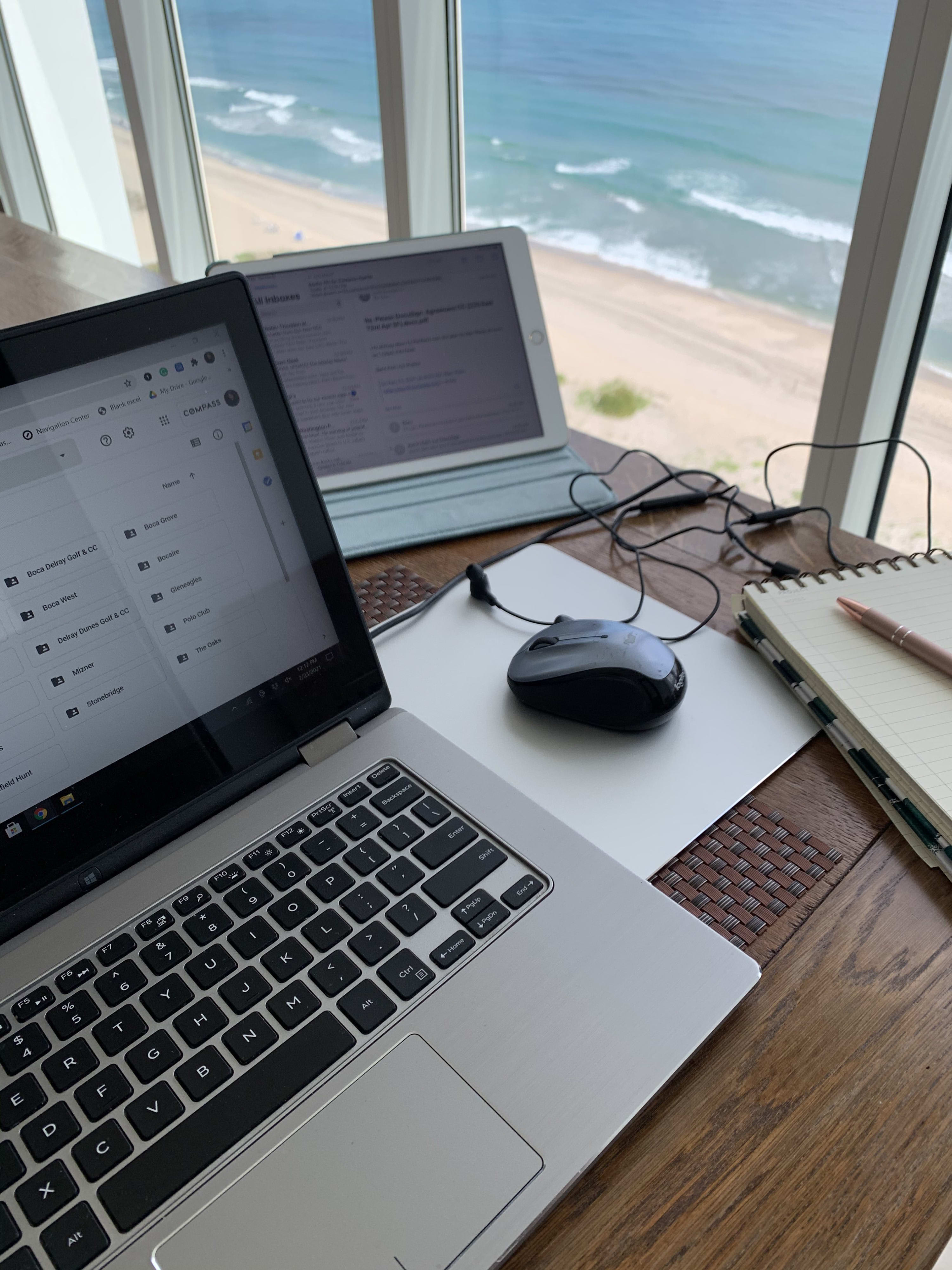 Ellen has the pleasure of working with this absolutely gorgeous view on a daily basis, it is truly the dream for many to be able to work with the ocean lapping right outside their window!
Ellen's tips for staying productive are:
Situate yourself in a comfy, well lit spot with good back support
List your clients/issues/tasks for the day in order of importance, try to tackle as many as possible
Stay connected via email, FaceTime and Zoom (Face to face is so important, especially right now)
Stay positive and patient
Take breaks!
Hillary Siegal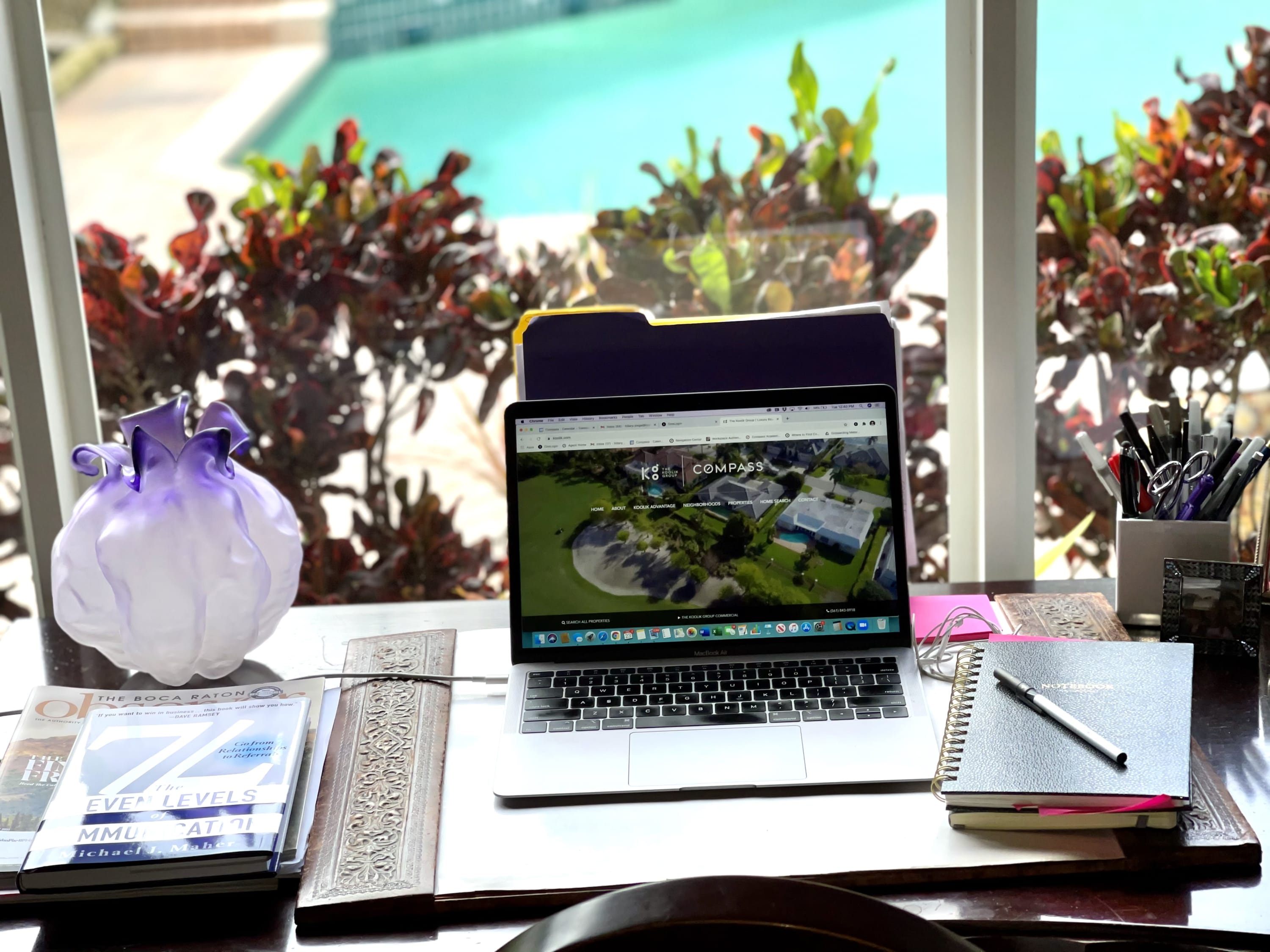 Hillary also gets to work with a picture-perfect Florida view, but this time it's of her sun-filled backyard rather than the ocean!
When asked how she stays productive while working from home, Hillary said:
"I'm pretty sure there are many early risers at The Koolik Group, and for me, it's also the best time of day to get things done. I'm most productive in the morning, and I'm also big on making lists. I always have a notebook with me. Each day I make a list of things I want to accomplish first thing in the morning when it's quiet. Working from home can be a challenge with lawnmowers and back-to-back Zoom meetings, there leaves little time for projects and creative work. Also, getting outside is important. Taking small breaks throughout the day to get fresh air helps clear your head."
So to recap, Hillary's suggestions are:
Know your peak productive times
Find the system that works for you
Take small breaks during the day
Get some fresh air when you can
Some general tips we can offer for WFH productivity are to keep a
separate browser window or login
for work (as this can keep your social media favorites from tempting you on a daily basis), try to minimize distractions by adjusting your social media notifications on your desktop or phone, and limit those notifications to one of those devices instead of both.
And while we all want to be able to stay productive at home, it's also important to keep your mental health and well-being top of mind, as the effects burnout can have on your mental and physical health
can be quite serious
.
In order to prevent burning out, try to prioritize yourself. Set a time each day where you will start and stop working unless there's an emergency outside those hours. Setting healthy boundaries with work is important, otherwise, you may find yourself losing sleep by answering emails from bed and working until the wee hours of the morning.
Another good tip would be to avoid working from your bedroom if at all possible, as you don't want to associate the stress and problems of work with where you lay down to sleep every night. Have a set "office" area in your home, so that you can feel like you're "clocking in" every morning, rather than just waking up and grabbing your laptop right away to work from bed.
Do you have any suggestions for how to stay productive while working from home or tips on how to prevent burnout? Let us know! You can contact us via our
Facebook page
, or message us on Instagram
@thekoolikgroup
, we'd love to share your tips so everyone can benefit from them!