With Valentine's Day rapidly approaching, now is the time to start thinking about how you want to celebrate (if you haven't already!) For us, Valentine's Day is the perfect excuse to craft that cheeseboard/charcuterie spread you've been wanting to try your hand at. These aesthetically pleasing arrays of meat and cheese are perfect for any celebration, be it with a significant other, or with family or friends (but we won't judge if you decide to make one for yourself, either!).
The Basics
Williams-Sonoma put out a
wonderful piece
recently about what goes into the perfect cheeseboard/charcuterie board. It's less of a recipe and more of the foundational flavors and textures that you'll want to present on the board. They state that the ideal board should have:
Cheese

A soft cheese (such as brie or camembert)
A hard cheese (such as gruyere or cheddar)
An aged cheese (goat brie or herbed)
A blue cheese (gorgonzola or Roquefort)



Meats

Spicy salami
Prosciutto di Parma
Capicola
Soppressata



Something sweet

Seasonal fruits (or fruit of your choice)
Jams or jellies
honey/honeycomb


Something salty

Almonds
Pistachios
Olives
Cornichons
Artichoke hearts



Vehicles to eat all of the above with

Salted or seeded crackers
Water crackers
Sliced baguette



And then, some beautiful edible garnishes

Fresh herbs
Edible flowers
Cracked pomegranate
They suggest avoiding slicing your elements too much and striving to make it more "organic" by ripping the bread or crumbling the cheese, and rounding out the elements on your board, by thinking of it from an artist's point of view.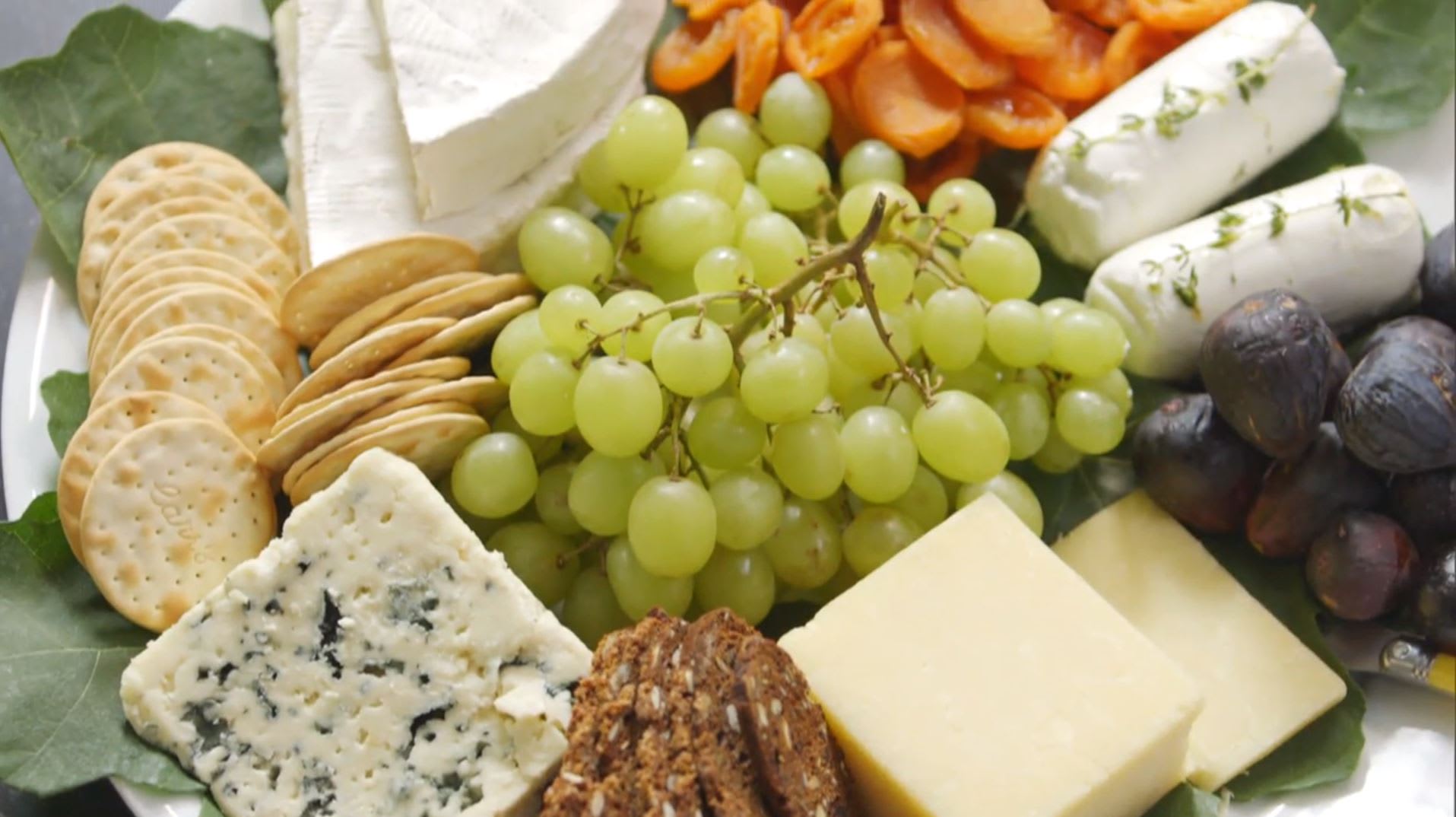 The Barefoot Contessa herself Ina Garten shared the recipe for an easy cheeseboard fit for beginners with The Food Network, and is as follows:
8 fig leaves
1 to 2 bunches green grapes
1/2 round of Brie, such as Tremblaye
Wedge of aged sharp Cheddar
8 ounces goat cheese, at room temperature
Fresh thyme sprigs
Good olive oil
1 wedge blue cheese, such as Roquefort
Dried apricots
Fresh figs
1 package of dried fruit crackers, such as Rustic Bakery
1 package water biscuit, such as Carr's
"Arrange the fig leaves on a round platter. Place the grapes in the middle and the Brie, Cheddar, and goat cheese around the grapes. Sprinkle thyme leaves and place a sprig of time on top of the goat cheese and drizzle with olive oil. Add the blue cheese to the cheese arrangement and artfully arrange the apricots, figs, and crackers among the cheeses."
You can click
here
for the video version of the directions on how to assemble the cheeseboard.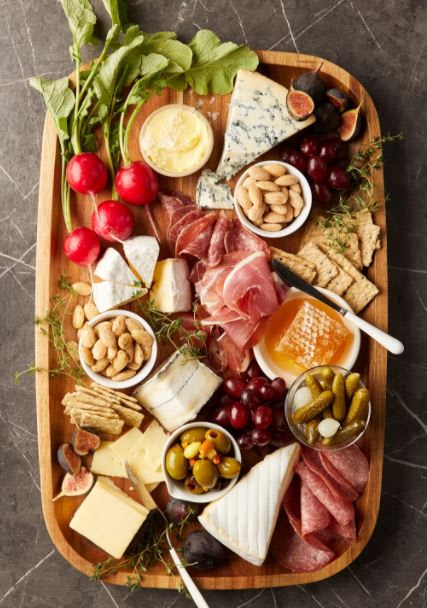 Better Homes and Gardens offers
a few options
for easy yet delicious charcuterie boards that are big enough to give you leftovers. Our favorite of the bunch is the
Classic tray
, Made with:
Your choice of one soft cheese, one hard cheese, and a blue cheese
Your choice of cured meats
Crackers like Blue Diamond Artisan
Nut thins in asiago, cheese, and flax seed
Herbed nuts, like Blue Diamond Crafted Gourmet Almonds in Pink Himalayan Salt
Cornichons
Olives
Grapes or figs
Honey
Mustard or butter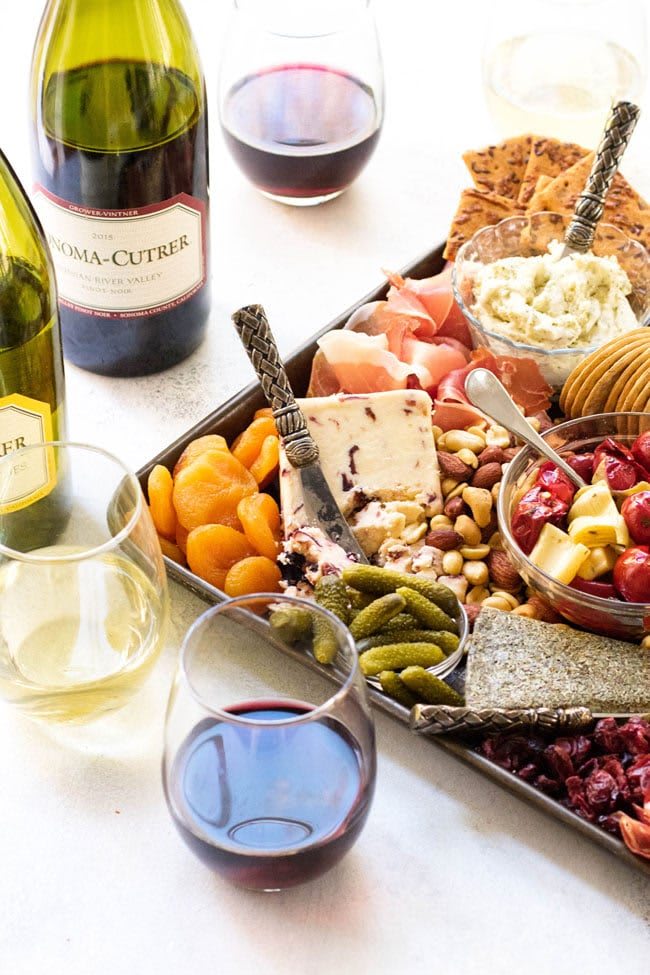 If you'd like to pair a drink with your cheeseboard or charcuterie board for Valentine's Day, Wine Mag suggests "Light- to medium-bodied red wines with firm structure, like Gamay, Frappato, Zweigelt and Cabernet Franc are always a safe choice for charcuterie boards. The wine's bright acidity and fresh berry flavors work together to cut through any fatty offerings and creamy textures. Potent spice flavors like fennel and red pepper threaten to overwhelm wines that are delicate and lacking in concentration, a sturdy structure is key to keeping up, but avoid anything with firm tannins as they clash with anything spicy. Red wines on the lighter, fruitier side can be enjoyed with a bit of a chill and work well when serving a cold charcuterie board."
If you build a cheese or charcuterie board this weekend, send us a photo and we'll share it on our social media pages! You can either tag us in your post on Facebook/Instagram @thekoolikgroup or send us the image directly on Instagram, and we'll share your masterpiece of meats and cheeses!